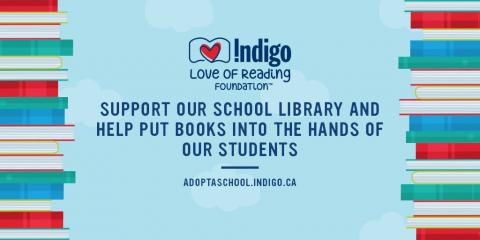 This year, Dr. Hanna is participating in the Indigo Adopt a School Challenge.  It is a great opportunity to get new books for our students.
How it works:
Every $10 donated results in a book we get to pick from Indigo/Coles/Chapters.  For every 2 books ($20) donated, the Love of Reading foundation will donate a 3rd book to the school!
Bonus books:  If you tell a story about why reading/the library at our school is important to you, the Love of Reading Foundation will donate a book to our school (up to 20 books)!
"Heart" your favourite Dr. Hanna stories and we can be entered for a chance to win $2500 in free books from Indigo/Chapters!
The contest runs September 16th - October 8th.
Please visit our Adopt a school page and donate, share your stories, and use your 'hearts' to support our Dr. School students!  
Also, feel free to share this information with friends and family!  Let's get the word out and fill our Library with new books for students!