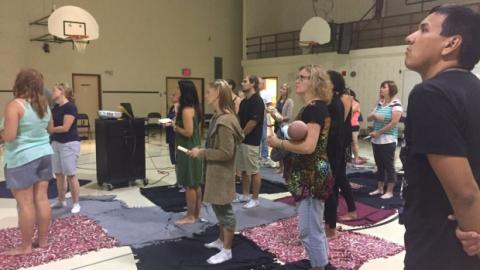 Dr. LM Hanna School is pleased to introduce to you the Blanket Exercise.  The Blanket Exercise is a teaching tool used to share the historic and contemporary relationship between Indigenous and non-Indigenous peoples in Canada.  It is a highly interactive activity intended to build participants' understanding of our collective history in Canada.  Participants become involved as they step onto blankets which represent the people and the lands that we now occupy. By engaging on an emotional and intellectual level, the Blanket Exercise effectively educates and increases empathy for the many people involved building our nation.
To be certain, many staff from Regina Public Schools have been involved in this extremely engaging learning experience.  It is also an activity that has been shared with many agencies including Regina City Police, Regina Catholic Services, Regina Public Libraries, and more.
For all that, the Blanket Exercise is being offered to you – our parents, guardians, community members and friends.  Please note that this offering is open any interested adults.
The Blanket Exercise will be held Tuesday, March 6 beginning 6:30 p.m. at Dr. LM Hanna School.
Pre-registering will be required since the activity must facilitate a minimum number of participants.
If you have questions, or would like to register for this event, please contact the school at (306)791-8594.